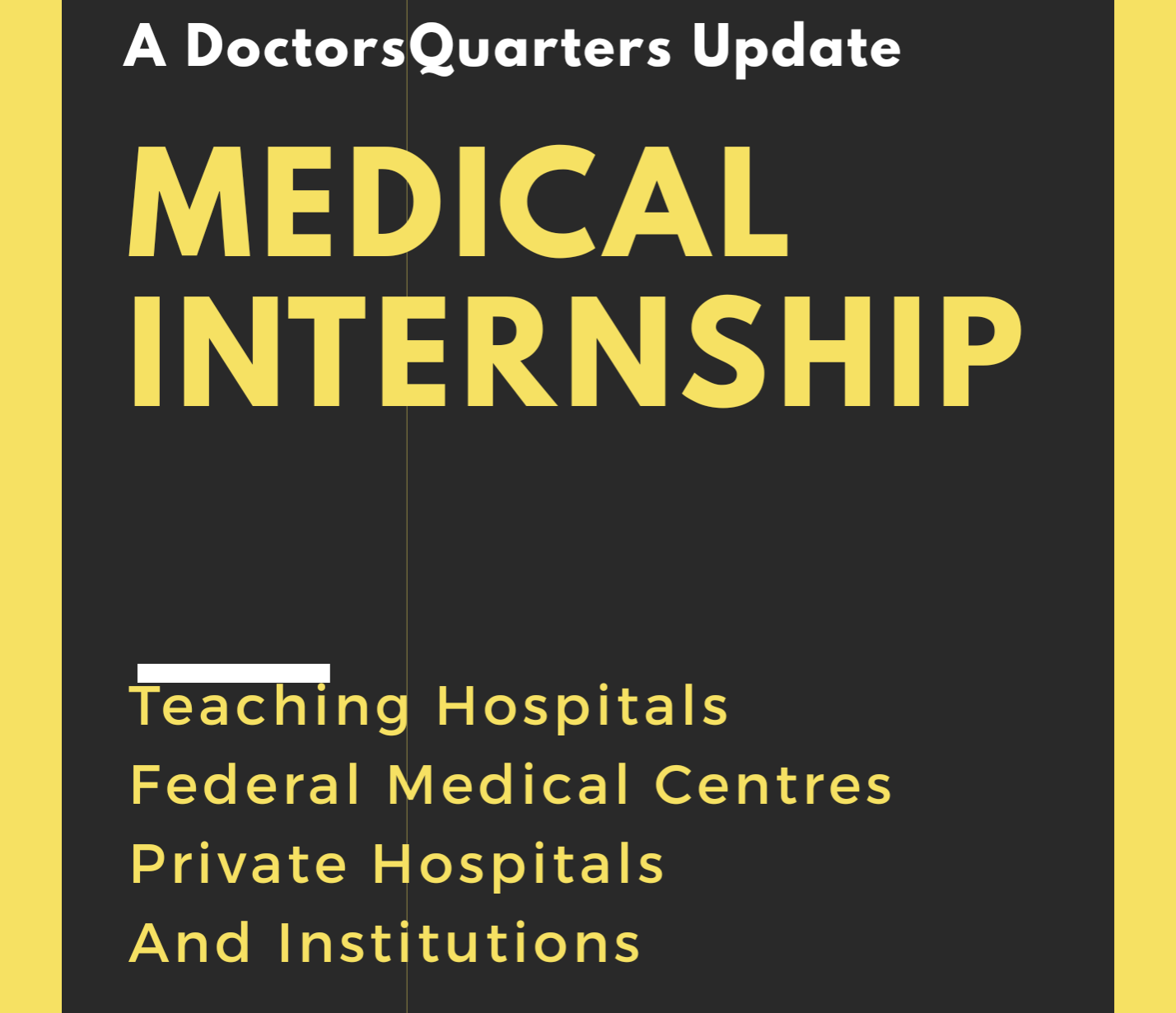 Applications are hereby invited from suitably qualified candidates at the National Hospital Abuja, to fill the following vacant positions;
POSITIONS:
Medical/Dental House Officers
Medical Laboratory Science Intern
Dental Therapy Interns
Dental Technology Interns
Pharmacy Interns
How to apply :
ELIGIBILITY
Interested candidates must possess a recognized degree or equivalent in their areas of specialization from a reputable University in Nigeria or abroad
METHOD OF APPLICATION
Applicants are to submit manually
.
Requirements :
Application letter(Please add your phone number)
Licences
Curriculum Vitae
Oath (Pharmacy )
Degree Certificate or statement of results
O level
FSLC or Testimonial
LGA Identification letter
Birth Certificate or Statutory age declaration (Affidavit)
Three Recommendation letters
Any other relevant document
Address your letter to:
The Chief Medical Director,
National hospital Abuja,
PMB 425,
Garki.
Abuja,
F.C.T Nigeria.
Extended Institution Deadline Due to Lock Down Period : Very soon
Parcel Deadline : 12th of June 2020
♐ Doctors Salary at National Hospital is 211,000
♐ Pay for other interns (Pharmacists and Med Lab Scientists): is 165,000
---
Candidates, who may not be able to physically apply at the National Hospital Abuja are encouraged to apply by our DoctorsQuarters e-Application Parcel Delivery Service.
To apply via our platform, kindly send computer-scanned copies of your documents via doctorsquarters@gmail.com and pay for our services. If you have sent documents before, you don't need to send again.

Official fee: None
Parcel charge/Service: 2000
Access Bank (DoctorsQuarters Medical Hub Limited): 0101257298
Parcel deadline: 12th June, 2020.
Official deadline: Expected to be extended!!!
NOTE:
The Hospital is currently accepting applications and will call for an interview when they need interns. The current interns are in the later stages of their internship.


You can either apply yourself by visiting the hospital or apply via our platform.
The Parcel charge is not a fee from the Hospital. It's simply our service charge which covers the printing of documents, passports and parceling expenses.
We are not affiliated with any hospital, neither are we agents of any hospital. We are only a platform that helps distant candidates submit their applications.


The Hospital reserves the right of shortlisting candidates
Please share to your friends, class, departmental and faculty Whatsapp groups